MyBizCard

– Think before you Click

I received a request from a trusted contact today asking me to submit a person rating on MyBizCard.
It looked innocent enough; informal greeting and apologies for the bulk mail. Then I noticed it was not addressed to me and included a number of of contact names. Hmmmm.
I Googled MyBizCard and my suspicions were confirmed. Many people  clicked on the link and had become part of a spam circle.
One of these people was Al Hidden, from Gloucestershire, he has a great post about the difficulties he had as a result of reviewing a friend.
After he  submitted the review, he gave MyBizCard access to his LinkedIn account. Al describes what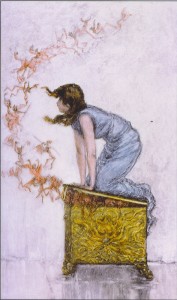 happened next  as opening Pandora's box.
MyBizCard

sent an email  to all his contacts asking for a review, even though he had picked only a selection.
The request messages were sent in bulk without

personalisation

– like the one I received  which was sent to nearly a dozen people all visible to each other.
Many of his contacts clicked the same link and had the same experience.
The real annoyance was the follow up email from MyBizCard. Having signed up and sent the bulk emails you are then informed that only three of your  ratings will show on the card unless you pay $99.
Why would you pay that much for a service that you did not request?
Many people report that all of their contacts had been emailed for reviews and some of the people who submitted a review were annoyed when their review was not visible on the card.
Su Butcher wrote a follow up post and the comments section is very interesting. Even those who paid $99.00 to upgrade are not happy with the results.
Getting Rid of  MyBizCard Spam
Many people have already complained to LinkedIn and do not appear to have received a satisfactory answer or a resolution. There are over 26 comments on LinkedIn Help Centre written by people who are really furious about this application. If you want to get rid of it, they offer these instructions.
1) Click 'Settings'
2) Click 'Groups, Companies, & Applications'
3) Click 'View your Applications'
4) Check 'myBizCard'
5) Click 'Remove'
 So, my advice to you is, think before you click….
I am going to reply to my contact and give him a link to this post.
Has anyone else been contacted about this service? Let me know and please share any tips  in the comments below